Introduction
How many times have you received an email in your inbox asking you to pray, only to find that days later it's long forgotten? PrayerMate can help you with this by allowing you to attach them to your prayer subjects, helping you pray consistently over the long term.
But did you know that you can save any email as a PDF and attach it directly to your PrayerMate subjects? Here's how:
Instructions for iOS
Your email app should have a button to perform an action on your email. In the GMail app it's this "..." button:
In Mail it might be a box with an up arrow.
Then choose to "Print" the email:
You may get the choice of how to print - choose "AirPrint":
You will then be presented with a print preview. The secret here is that you can do an outwards "pinch" to zoom out of the email:
This will give you a new view with a "share" button in the top toolbar:
This generates a PDF of the email, so now you can choose to "Open in PrayerMate":
Instructions for Android
It's very similar for Android. First choose the "..." button:
Now go to "Print" your email:
Choose the printer:
Pick the "Save as PDF" option and save the email somewhere you can find it later:
In the Android "Files" app track down your document and choose the "Share" button:
Pick "PrayerMate" as the destination app and attach to one of your subjects: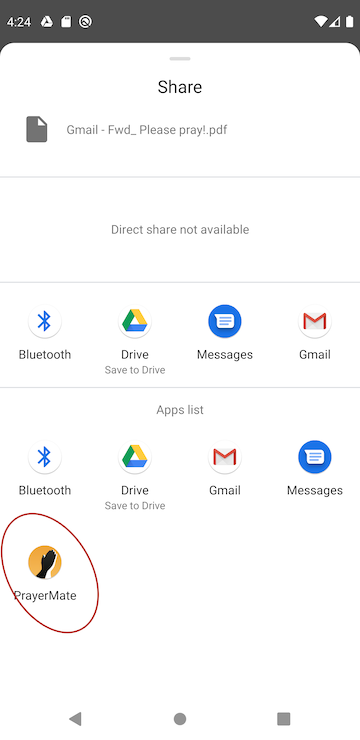 When you come to pray
Once you have attached your PDF, it will appear on that subject when you come to pray for it:
And there you have it!